Republic of Portugal
A Portuguesa
1.
"Herois do mar, nobre povo,
Nacao valente e imortal,
Levantai hoje de novo
O esplendor de Portugal!
Entre as brumas da memoria,
O Patria sente-se a voz
Dos teus egregios avos,
Que ha-de guiar-te a vitoria!"

1.
Heroes of the sea, noble people,
Valiant and immortal nation,
Arise today once more
The splendour of Portugal!
From out of the mists of memory,
Oh Fatherland, the voices are felt
Of your great forefathers,
That shall lead you on to victory!

Chorus:
"As armas, as armas!
Sobre a terra, sobre o mar,
As armas, as armas!
Pela Patria lutar
Contra os canhoes marchar, marchar!

Chorus:
To arms, to arms!
Over land, over sea,
To arms, to arms!
To fight for the Fatherland!
Against the cannons, we march, we march!
Anthem MIDI FIle
About Anthem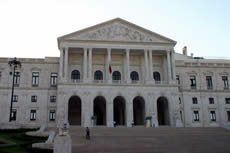 "A Portuguesa" is the national anthem of Portugal. It was written by Henrique Lopes de Mendonテァa (lyrics) and Alfredo Keil (music) after the nationalist resurgence provoked by the British Ultimatum (for Portuguese troops to vacate the territory between Angola and Mozambique), was adopted as a Republican anthem and, finally, by the new Portuguese Republic in 1910 as the national anthem, replacing "O Hino da Carta", the last anthem of the Constitutional Monarchy in Portugal (photo: Assembly of the Republic, Lisbon /source: Wikipedia)